Curcumin C3 Reduct 10 ChewableProduct Description
It is not curcumin alone that has biological function in the body. When you take curcumin, or curcuminoids, your body turns that group of compounds into even more biologically active metabolites called tetrahydrocurcuminoids. These compounds can impact health in ways that curcumin alone cannot. Curcumin C3 Reduct captures these biologically active metabolites and delivers them straight to you. With higher bioavailability, greater biological activity and greater potency compared to their parent curcuminoids, tetrahydrocurcuminoids are a better way to take turmeric every day.
Curcumin C3 Reduct standardized for biologically active tetrahydrocurcuminoids, gives you
Greater potency
Greater stability
Over 3X greater bioavailability
Greater results

Supplement Facts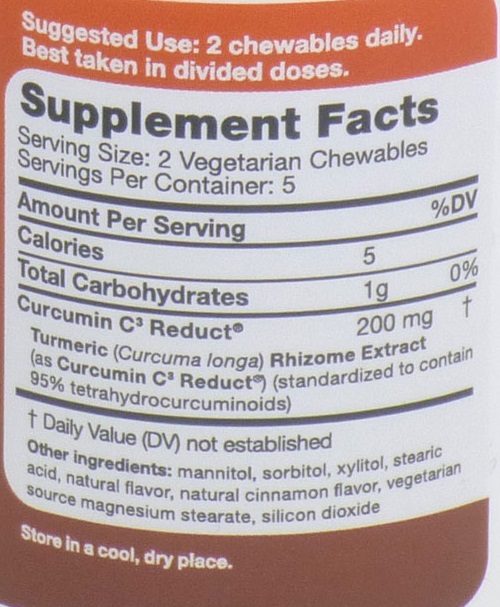 *Daily Value Not Established
***Percent Daily Values are based on a 2,000 calorie diet
Other Ingredients: mannitol, sorbitol, xylitol, stearic acid, vegetarian source magnesium stearate, silicon dioxide, natural cinnamon flavor
Does Not Contain: sugar, sodium, yeast, wheat, gluten, dairy products, artificial flavoring or coloring, preservatives or animal products
Warnings: Keep out of reach of children. As with all dietary supplements, consult your healthcare professional before use. See product label for more information. Do not use if pregnant or nursing. If taking prescription drugs, discuss all products used with a healthcare practitioner. Keep out of reach of children.